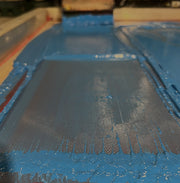 SCREEN PRINTING: THE LOW DOWN
Screen-printing has been the go-to method for garment decoration and is an industry standard for brands around the world. At Bridge Street Ink, we elevate your brand or business by bringing designs to life through this process. We take your ideas and create detailed prints with up to six colors per design. Our experienced team has honed their craft for over eight years, ensuring exceptional results with every project. We cater to both small and large orders, with a minimum of 24 pieces per design. We offer an extensive selection of brands and styles to choose from, allowing you to find the perfect canvas for your creative vision. To this day screen printing offers the highest quality prints at a lower cost than other printing methods making it the most viable option when it comes to custom printed apparel.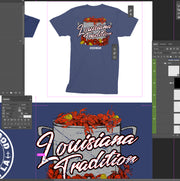 DESIGN: PENCILS FOR HIRE
Okay so you know you need screen printed t-shirts, the next step is to figure out what you want on them. Don't fret, we handle that too. Our design team specializes in spot color t-shirt designs and vector logo creation. We work closely with our clients to make sure we can get original artwork that conveys the message for your business. We are positive that we can design something that will not only work for your brand, but make something that you can be proud to wear.